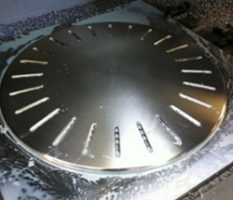 We pride ourselves on finding solutions for problem projects that other engineering firms may have turned down. We use our expertise in fast-turnaround, low-volume engineering to create, modify and perfect parts that are causing you a headache.
If you are looking for an engineering company who can take on your most difficult projects, make your designs machinable, or just to get something made as fast as possible, look no further than Thompson Precision. Based just an hour from central London, we have a team of designers, purchasers and engineers who work as a unit to turn your concept into a reality.
We have extensive history of working with individual designers as well as global companies, and our focus on excellence in service and final product applies to all of our clients. Whether your components need to be manufactured quickly, or you need an experienced engineer to assess your drawings, we're happy to help.
Dedicated Precision Engineering Machinery
With over 25 dedicated CNC machines, and multi-disciplined engineers, we're always ready to get started on your next project. Once we have your technical drawing or 3D CAD and some information on material choices, as well as any problem aspects of the part, we can get started with machining or turning your component rapidly and to our highest standards.
We work with design and purchasing departments from a wide range of industries, including aerospace, automotive, scientific and rapid manufacture for companies involved in the prototyping stages of bringing a product to market.
We can assist with manufacturing quandaries, and our large range of CNC machines means we almost always have the right machine for the job. This can range from varying bed sizes on CNC machines, lathes, five and seven axis cutting, as well as an assortment of manual milling tools.
We have also worked in partnership with tooling companies, to develop and perfect the tools needed to complete complex milling operations. This coordinated approach with our suppliers, as well as our constant upgrading of our CNC machines, means we are always at the cutting edge of advancements in machining and manufacturing.
If you're part of a design team and are looking to have a prototype component manufactured for testing, or you're a purchasing adviser who wants accurate, high quality parts, give us a call on 01277 365500 or email [email protected].