At Thompson Precision we understand that sometimes you need parts machined as quickly as possible. We're happy to offer customers our Premium Service for fast-tracking your order. This maintains our high precision engineering standards, but provides you with the highest quality CNC machined parts in as little as 24 hours from us receiving a drawing.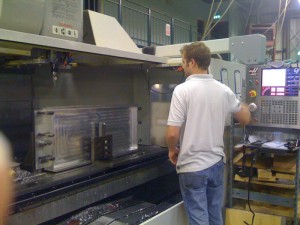 Our expert precision engineers and designers can manufacture your complex components quickly using our CNC milling and turning centres. We can also give advice on material choices, engineering terms and how to most efficiently make your part. With decades of experience, our engineers can quickly diagnose issues that might arise during manufacture, to minimise delays and to do everything we can to ensure we meet your delivery date.
With over 20 CNC centres, we will endeavour to get your part on a milling machine or CNC lathe as quickly as possible, and once milled and checked by our inspection department, the piece is ready to be collected or transported to you.
If you've been let down by a supplier, or you need a part milled or turned in a hurry, we'll do everything we can to manufacture your part by your deadline. We can assist with any problems your design may be giving you, to get the piece on a machine as quickly as possible, and we keep a large stock of aluminium, steel, brass, copper and plastics on site so there's no need to wait for materials to be delivered.
The use of our Premium Service can greatly benefit the product design sector, or any manufacturing industry where parts need to be made quickly. Get in touch with us to see how our services can work for your project.
If you're in need of our Premium Service, talk to a member of our team on 01277 365500 or email your drawing to [email protected], making sure you mention Premium Service.


Send us your CAD or technical drawing, clearly labelled "Premium Service"


We source the material and plan how we will manufacture your part


We manufacture to our highest standards and inspect the part


You recieve your part as quickly as possible