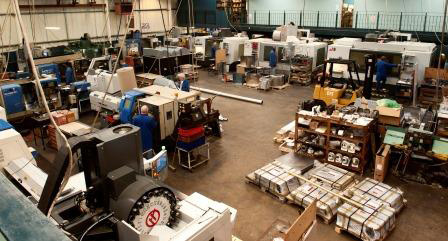 Today Thompson Precision offers a world class precision engineering service which encompasses CNC milling and turning, mechanical prototyping, product development, rapid prototyping, design and engineering consultancy. Our success today is an evolution of our long standing involvement in the British engineering industry. Alongside our sister company J H May Models and Prototypes we have been providing high precision engineering services since the 1920's. In the early days our base of operation was the East of London with over 200 employees. High pressure hydraulics, mechanised automotive systems, repetition turning, scientific instrument manufacture and pattern making featured amongst the areas we specialised in back then.
We were amongst the first companies to recognise the digitisation of the precision engineering industry. Our early take up of these technologies transformed our business and has shaped everything that we do today. The story is the same with the more recent advent of CAD/CAM systems. We have grown with the technology and we believe that our full and detailed understanding of the latest CNC machining equipment coupled with the powerful CAD and CAM software available today enables us to offer the highest level of technical expertise.
Why Our Clients Work With Us
For our many blue chip clients this level of expertise and high quality is a given. What sets us apart from much of our competition is our commitment to service. We only employ highly skilled engineers who are empowered to consult directly with the design authority where necessary. Each engineer takes full responsibility for a job from start to finish. This process involves interpretation of the manufacturing data, CNC programming, selection of appropriate tooling, setting the CNC milling or CNC turning machine, production and inspection. By giving our precision engineers complete ownership of the individual job or complete project we ensure the best levels of quality and speed. The engineers are backed by an inspection team and hands on management who have all risen through the ranks.
Thompson Precision are well known for solving at first glance impossible problems. We can work independently or collaboratively to achieve the desired results. To find out more, here is some information about a project that we worked on together with WNT, click here to find out more.
Our sister company, J H May Models and Prototypes, brings an added dimension to the business. We are able to offer a full range of plastic prototyping technologies including vacuum casting, RIM (reaction injection moulding), vacuum forming plus SLA, SLS, FDM and PMMA rapid prototyping. All of these services can be supplied as a standalone service but the major benefit is that we can complete the majority of engineering projects in house. For example a metal electronics enclosure or chassis with moving parts and electronics can be supplied with full plastic enclosures, control panels and hand or remote controls.