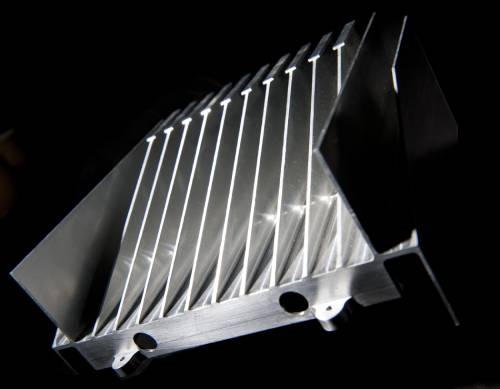 Thompson Precision use 3 axis and 5 axis machining to create bespoke enclosures, heatsinks and extrusions from solid billets of Aluminium, Titanium, and Stainless Steel as well as many other materials.
Enclosures machined from solid billet have more strength, precise positioning for access ports and cut-outs, and can include machined features like mounting holes and heatsinks.
Aluminium Machining from Solid Billet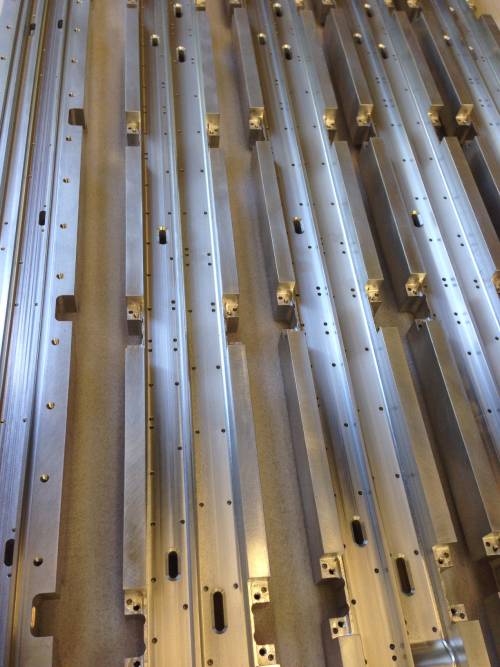 We regularly machine aluminium for customers in a wide range of industries around the country, and we hold a stock of standard and specialist grades for rapid machining.
We have provided Aluminium Enclosures machined from Solid Billet to the Scientific, Research, Aerospace and Electronics industries, as well as many others; enclosures machined from solid are often used to safely secure complex and sensitive electronics and components.
Aluminium offers excellent machinability and can be machined faster than steel or iron. Aluminium also has a high corrosion-resistance, with a favourable strength-to-weight ratio, making it perfect for many marine and aerospace uses.
With the option to anodise, aluminium enclosures can be coloured or given an even stronger outer layer to help the part resist impact or corrosion. For more information on how we can help manufacture your aluminium part from solid, contact us today.
Stainless Steel Machining from Solid Billet
We regularly machine different grades of Stainless Steel including 303, 304, 316 as well as many other grades using CNC Milling Machines and CNC Lathes.
Stainless Steel is a harder material than aluminium, giving increased strength to the finished part while being more difficult to machine. Stainless Steel parts are often used when parts will be under high stress or need to be welded. Machining complex parts from solid billets can increase the strength of the part, help protect the enclosure from ingress of foreign debris, and can be precision machined to safely secure internal parts.
Titanium Machining from Solid Billet
While Titanium is more expensive than Aluminium and Stainless Steel, components machined from Solid Titanium can be twice as strong while weighing roughly the same – these features mean it is often the material of choice for aerospace and medical applications.
At Thompson Precision we machine and turn Titanium in various grades, and we regularly hold a stock of material for fast-turnaround parts.
Enclosures from Titanium can often be specified due to Titanium's low conductivity and high melting point.
Engineering Plastics CNC Machine from Solid
Engineering plastics can also be used to machine parts from solid, but there may be limits to the thickness of most stocked plates. Using our CNC Machines and Lathes, Thompson Precision can accurately machine precision components and enclosures from a wide range of Engineering Plastics, including Acrylic, Polycarbonate, Nylon, Acetal, Peek, PTFE and Ultem. We often hold plastics in stock so that we can start fast-turnaround projects straight away.
Using our 3 and 5 axis CNC Machines and our CNC Lathes, Thompson Precision can machine complex parts and bespoke enclosures from a wide range of materials – get in touch today to see how we can help. Call us on 01277 365500 or email [email protected].