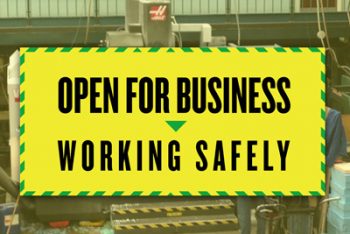 While the current situation is causing incredible uncertainty to health, families, businesses and our shared way of life, we thought we'd let me know how things are looking from the factory floor and what we're doing to keep our staff and customers safe. We're still manufacturing, and we thought you might want to know how our days have changed.
Due to the current COVID 19 pandemic, we took the step to install social distancing measures as early as possible. We are running a skeleton staff which covers the needs of our customers. We review this weekly but can adapt to meet demands, allowing us to manufacture urgently needed components as well as fulfilling ongoing projects. We have also been delivering orders of prototype parts for medical devices and other crucial components.
Our large factory floor means we can keep distanced at work, loading the CNC Milling machines and keeping important projects rolling on while socially distancing. Those who can work from home are able to coordinate materials, orders and accounting without being onsite. We are following government advice regarding workplace cleanliness and will monitor the situation to see what further steps are necessary.
With a stock of material ready to be used, urgent projects needed to be made, and a skeleton crew of engineers, we are well-prepared for overcoming any challenges!
Our business will continue to stay open and we will do everything we can to support our customers during this unprecedented time.
Please do not hesitate to contact us with any further queries or if you require additional support during these times. We wish all of our customers, suppliers and everyone attached to this great business sector well and take care.
Kind regards,
Thompson Precision Engineering