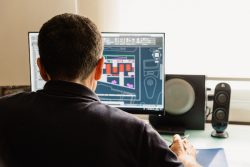 Thompson Precision Engineering have offered 3D CAD product design for over ten years to support our CNC machining services and assembly facilities. But what exactly is 3D CAD design software, what is it for and why do we use it? Read on to find out more about this technology and how it helps us to offer world class product design.
What is 3D CAD design software?
CAD stands for Computer Aided Design and refers to using computer software in order to create, manipulate, analyse or optimise a design. 3D CAD is generally used either for digital applications or for manufacturing and prototyping processes. The user will create two dimensional shapes and then use the software to turn these drawings into three dimensional forms.
What applications is 3D CAD design software used for?
3D CAD technology is used for design and technical documentation, making what used to require manual drafting into an automated process. It is used by architects, engineers and product design specialists to more accurately visualise and share three dimensional designs with clients and builders, model makers or manufacturers.
3D CAD design software allows users to design ideas, visualise concepts and simulate how their designs will behave in the real world, and then share these with their clients and those who will make the designs a reality.
The main benefits of using this technology are:
That as the process of turning a two dimensional design into a three dimensional one is automated, it is much quicker and more efficient than doing it manually.
The three dimensional designs will be far more accurate than any manual rendering can be.
The three dimensional forms can be viewed from any angle and in real world simulations which are much easier for a client to understand than trying to visualise from two dimensional designs.
Why do we use 3D CAD design software?
At Thompson Precision Engineering we have found that our clients really appreciate being offered the complete services of product design, development and production all under the same roof. We are specialists in product design and use Solidworks 3D CAD software in order to offer mechanical and electromechanical designs both as a complete package (together with in house machining, assembly, model making and rapid prototyping) and as a standalone service. Solidworks is an industry standard and so the CAD files that we supply to our clients for production can be used by manufacturers worldwide.
We usually carry out an initial design evaluation for each new project we take on and then estimate project cost. After this we'd start on sketches and CAD visualisations of the most important mechanical areas, supported by three dimensional models created using our 3D CAD design software. Once this is approved by the client we would then either begin the product development phase ourselves or supply the client with CAD files to use with another manufacturer of their choice.
Find out more about how our product design expertise and 3D CAD design software could help you to turn your product ideas into reality.