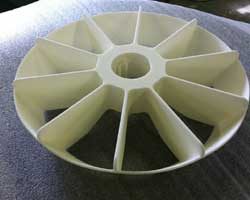 You could be in the thick of a team or building solo, but it's critical that no matter what you do, you move quickly. Fast prototyping is a design workflow, and it's one that is made up of ideation, prototype creation, and testing. When you decide to use fast prototyping, you will be able to work together with managers and designers, engineers, and users, to create a functional product.
The capabilities of rapid prototyping have assisted a number of businesses in the conversion of their ideas to products, and they're doing it faster than they have ever done before. Previously, products would take days on end to model whereas now, we can see a product prototype in hours. Manufacturing plants are now able to reduce their lead times while improving productivity at the same time. Now, fast prototyping is being adopted by manufacturing businesses across the industry, and there are so many reasons for this. Let's take a look:
High Product Standards
With a faster turnaround time on product creation, manufacturers can take a big step toward better quality products and business standards. The use of modern technology to bring ideation to life is changing the manufacturing game.
Better Accuracy
Currently, prototyping is a long process with frequent design revisions. This is a significant factor in lowering the quality of the product because the focus is on improvement and not time management. With faster prototyping, you can create a product that people understand, with faster testing and evaluation, allowing for more accurate product design. It's also far more flexible than conventional prototyping, and it reduces the need for product trial and error.
Ideation
It takes a lot of people to come up with a product that is designed well and functional. Manufacturers spend time relying on the prototype to explain concept ideas to those interested, but the more complicated the design, the less cost-effective it is to present. Given that fast prototyping has the capability of handling even the most intricate designs, this worry is blow out of the water. Viewing the product in CAD design can prevent the constant creation of physical products and still allow the manufacturer to convey the design.
Easier Testing
Satisfying regulations and safety standards is a priority for manufacturers, and they need to be able to show that this is a product with high performance. A fast prototyping service can help manufacturers with realistic models being formed, making it easier to conduct testing to match the safety aspect of the design.
The whole idea of fast prototyping is to make life easier for manufacturers and deliver flexibility with productivity. You can make faster changes to a design without spending too much budget, wasting time and being unable to meet a deadline because testing is taking too long. Spend time working with Thompson, and you'll decide that fast prototyping is for you, and you can guarantee that with our experience at turning products around quickly, you'll never go back to the conventional methods!