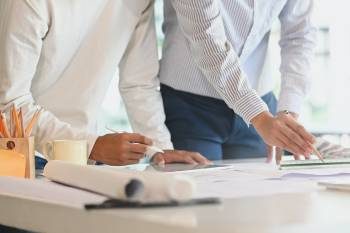 If you're looking for a consultant to take on your engineering project then you're definitely in the right place. At Thomson Precision, we're dedicated to offering you best the possible service from start to finish.
Who Are Thomson Precision?
Here at Thompson Precision, we offer a world-class precision engineering service that encompasses mechanical prototyping, CNC milling and turning, rapid prototyping, product development, design and our well-known engineering consultancy.
With a long-standing involvement in the British engineering industry, our experience is what makes us stand out.
What Engineering Consultancy Services Do We Offer?
Using years of dedication and experience, our consultants can provide you with an expert precision engineering consultancy from start to finish.
Although we usually specialise in projects of a mechanical and electromechanical nature, we are also happy to undertake projects with an electronic element. If you're unsure whether we can take on your project, feel free to contact us for a quick discussion.
Why Should You Work With Us?
There are lots of great reasons you should be considering working with the engineering consulting team here at Thomson Precision. Here are just a few of them:
We Have An Experienced And Professional Projects Team
Our commitment to service sets us apart from our competition, which is why we pride ourselves on the fact that we only employ highly skilled engineers who are trained to consult with the design authority at a professional level.
Having grown with the rise of technology, we have trained our consultants to have a full and detailed understanding of the latest CNC machining equipment. This includes CAD and CAM software, both of which are used on a daily basis in the engineering industry.
You Will Receive And Excellent Service With A Great End Result
Here at Thompson Precision, we strive to provide you with an excellent consulting service which means our engineers are expertly trained when it comes to solving problems at first glance.
When you're assigned an engineer for your job, they take full responsibility for the project from start to finish. By doing this, they then have full ownership of the job, ensuring they're providing you with the best levels of quality and speed. They will have free reign to talk to you directly, meaning any technical issues that arise are solved almost instantly.
Although you have a dedicated engineer, all of our engineers are also backed by a hands-on management team, all of which have risen through the ranks from a shop floor environment. As a result, they still retain the ability to programme and operate CNC equipment in need.
Depending on the service you're looking for, our engineers can work independently or collaboratively with the management team to achieve your desired results.
We Offer An Affordable Service
One of the biggest worries our clients have when it comes to engineering consultancy services is how much it's going to cost them, which is why we offer our high-quality service at an affordable price.
For more information about working with Thompson Precision, you can get in touch with a  member of our team here. They will be more than happy to discuss your needs and put together a quote for your project.