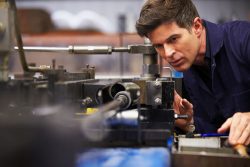 Let Thompson Precision Engineering bring your 3D design to life!
If there's one thing that can be said about Thompson Precision Engineering, it's that we cater to the foremost engineering and design companies for a reason. We have the precision engineering service partnered with a fantastic design team to make your new product come to life before your eyes. We're specialists in using low and medium volume components, machine castings and prototyping assembles for product development, and we serve a massive range of industries. The companies just keep on coming back to us time and again for our reliable and affordable service, which is designed to ensure that the entire process is smooth from start to finish.
Our Excellent Service
You need to be able to produce a prototype that showcases your new product ideas, and you're in luck. Our excellent design team backs up our precision engineering, and we can help you from the drawing stage of your product right to the finished piece. Our 3D CAD team can help you to reimagine your product when there are design issues making you hit a wall. We can redraw the file in 3D to show where there could be machining issues, and we can offer you a resolution to your product design problem.
Not only this, but we can design the product with you from the idea in your head to the conception of your test piece. The entire process is what we do well, and over the past eighty years, we have ensured that products from a variety of industries have been drawn and redrawn to a professional standard before being created. There's no use in us producing something subpar to your needs, so we will work closely with you to ensure that from start to finish, you get everything that you need for your project to be perfect. We've worked with games controllers and telescopic cable support systems as a part of our recent project offerings, and we ensure that we maintain our reputation in the industry by being as precise as possible.
Why Choose Us
We've been at the forefront of recognising the digitisation of the precision engineering industry, and our early take up of these technologies has made Thompson Precision Engineering what it is today. We are growing with the latest technology, and we think that our understanding of the newest machinery contributes perfectly to our progress. We do the best that we can for each and every customer who brings a project to our door. We want to offer the highest possible level of expertise to each client. Our high-quality guarantee is just a given, and what sets us apart is the commitment that we have to our service. We will only have the best engineers who are empowered to consult directly with the design authority where necessary.
Let us take your project from on paper to on-point – you won't be disappointed.