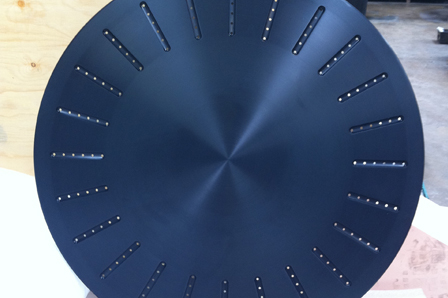 A client approached us to machine a set of wheels, over a metre in diameter, from solid aluminium. The wheels were to be made for a Batmobile car that was being used in a stage show.
Working from 3D CAD data supplied to us by the client, our CNC engineers imported the data into the CNC Machining Centre. The wheels were machined from solid blocks of aluminium on a Haas VF9 CNC machine, creating seamless discs.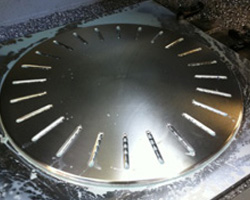 A series of slots and holes in the wheels were required to hold a complex arrangement of LED lights. Holding the work piece was not straight forward, so the CNC machinist designed a custom-built holding fixture using our Delcam PowerShape software. This involves using the inverted CAD file to create a perfect base for the wheels, stopping them from moving during machining and creating an accurate finished product. The wheels were completed with a black anodized coating to give the completed wheels a high-quality finish.
Every job is different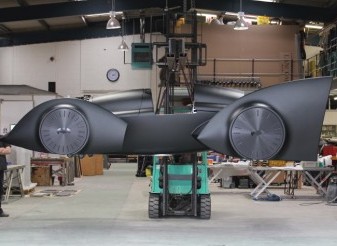 The finished product was another example of the type of work we do on a regular basis where every job is different. We never know what is going to be required for our next job, or the skills we will be utilising. We often need to create custom-built tooling to secure a project for machining, or utilise a combination of processes to design and create a difficult project. Luckily we have been in the industry for a long time now and have the latest in machinery so no job is too complicated for us; you tell us what you need and we will design it for you. This is the benefit of being a small but efficient, modern engineering company with a passion for new technology.