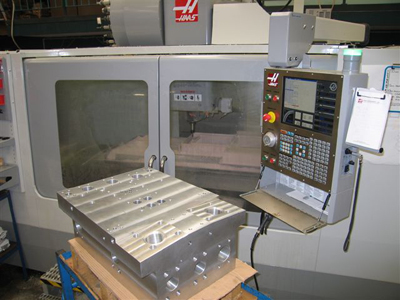 The client already had the 3D CAD data for the manifold along with the manufacturing drawings. This was passed onto our CNC engineers where the CAD data was imported into our 3D CAM software Delcam. Here the CNC engineer working on the project could ascertain and plan the best possible CNC milling methods for machining the manifold. With several deep oil galleries needed within the manifold of up to 500mm deep. It was imperative that our engineers used their vast amount of experience to ensure the correct methods were chosen, with every face of the manifold needing machining.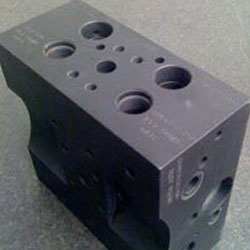 Within Delcam all the tool paths were created with the required tools chosen and added to the CNC programme. Each tool path is checked within Delcam by running a simulation of the tool path to ensure complete accuracy of the machined part. After the tool paths had been checked the aluminium block could be machined on one of our large CNC machining centre, with the deep galleries needing to be very precisely machined. The manifold also had many large threads that had to be thread milled. During the machining process after each operation the manifold was inspected using our CMM (co-ordinate measuring machine) to ensure it met the accompanying manufacturing drawings supplied by the client.
Highly Experienced in Hydraulic Manifolds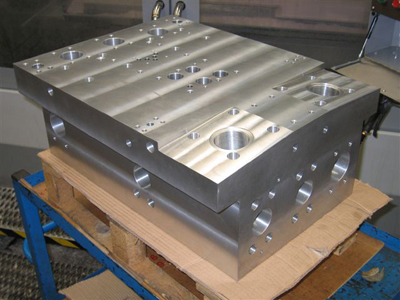 We have a great deal of experience in the machining of hydraulic manifolds and all high pressure hydraulic applications. We fully understand the accuracy and important surface finished requirements demanded in this field of engineering. We have been supplying major hydraulic manufacturers with very special and difficult hydraulic components for over 50 years.